GOOD FRIENDS,
This is the year — 2012 — to move forward and to accomplish many new tasks.  The past year has been one of the hardest in my entire life.  My mama went to heaven and my oldest, best friend soon followed, both angels in the heavens I know for sure.  Then my daughter was diagnosed with Breast Cancer and that big "C" word has invaded our lives.  Now I am recovering from a knee replacement.  They say I just wore the thing out.  Guess I moved too fast for a chicken dancing lady with a mission.
WELCOME one and all to a new BLOG!  I intended to have this accomplished over a year ago but have now met a wonderful lady at Hafner Designs who is guiding me through the process.  Watch for news from the north, south, east and west.  PreK and K Sharing is a new blog with 30 different people writing.  It is an exciting time when someone like myself can get on this computer and just type away.  My goal is to share my adventures from the past and the future.  I will share new ideas, products and places to get information about Early Childhood Education.  Check out www.storytellin.com often for new products and sign up for the newsletter and catch this blog often.  It will keep you updated on my travels from the past and into the future.
WINTER
SNOW, SNOW, SNOW where is the snow? Southern Indiana has seen only a few flakes of the soft, floating on air, white covering and it does not seem like winter. I visited a center in Florida and they had to make winter. A large truck brought in shaved ice and the children experienced the cold and wet as they played in the make-shift snow. It became a science lesson along with the play experience.
The center was decorated with snowmen and they were awaiting a visit from their northern friend Mary Jo. Even though they live in the best sunshine of the world they understood winter.  The snowmen were created by the children at the center.  I laughed and laughed as the children and myself did the snowman dance and talked about cold weather.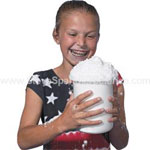 Learning how to make snow by adding water 
to this magical mixture and poof…..you have cold,
wet snow.  Go to www.stevespanglerscience.com
and search for snow.  We used it in our center
with 115 children every winter even though
we had our own snow.  You can store it
and reuse it several times.
I  hope your winter is filled with SNOW, SNOW, SNOW and you enjoy every flake. I am headed to Minot, ND for a great day of professional development. I am taking the camera in hopes of good pictures filled with the snow from heaven. February is another winter month but stay tuned as your heart will be warmed with Valentine activities.
 Remember
Every STORY has a STORY!