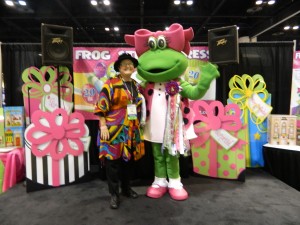 MAY  is a good time to think about summer.  In July the FROG STREET "SPLASH!" will take place in the state of Texas on 3 different dates.  The roster is filled with educators, entertainers and fun for all who attend.   Frog Street has the best Pre-K Curriculum on the market today and thousands of Pre-K teachers in the state of Texas and many other states will attest to that fact.   It is directed by Dr. Pam Schiller and she invited people like Dr. Becky Bailey, Dr. Clarissa Willis, Dr. Thomas Moore, Dr. Alma Flora Ada, Don Manopoli, Stephen Fite, Dr. Monte Shelby, Dr. Jean Feldman, Dr. Rebecca Isbell, and ME (Mary Jo Huff) to FANNY's BIRTHDAY PARTY 2012.
This headlining group of educators and entertainers present their expertise at the SPLASH events and this year it is even more special because FANNY FROG is having a BIRTHDAY and FROG  STREET will be celebrating all year.  Gifts are given out at every event and some have walked away with a fist full of dollars and some with free registration for the following year.  The staff  provides a concentrated effort to provide the best possible experience for every attendee.  Go to www.frogstreet.com and get more information and plan to attend one of the exciting events.
I will KEYNOTE the conference in Houston, TX and my friends Dr. Jean, Shawn Brown, Dr. Pam Schiller, Don Monopoli, Jill Molli, Stephen Fite, Dr. F. Isabel Campoy, Dr. Alma Flor Ada, Brian Mowry, Marianne Gibbs, K-Crew, Dr. Clarissa Willis, Dr. Thomas Moore and FANNY FROG will be there to do the best of the best workshops and entertain you from the first minute you arrive until it is time to head home.  Check the web site for the dates and times for the Dallas SPLASH and the San Antonio SPLASH.  Join us this year for the biggest and best birthday party in the whole USA!
Frogs are a favorite of all children.  Take the time to investigate frogs and how they happen to be water and land animals.  Explore, document, and keep frogs in your children areas.  Watching for that tadpole to become a frog hopping on all four legs and listening to the sounds of the frog invites all children to be part of the process.
Here is a fun, easy little diddy to sing with your children and provide them with a green frog to cut out and glue to a stick as they repeat:                      
GLUMP went the little green frog one day
GLUMP went the little green frog
GLUMP went the little green frog one day
And his/her eyes went CLUMP, CLUMP, CLUMP!
Simple but developing language, movement, rhythm and rhyme.
Until next time. when I will be blogging from NAEYC's PDI (Professional Development Institute) in Indianapolis, IN, …………. I wish you a safe beginning of summer and try to stay cool.  If you are attending PDI Indy stop by the Gryphon House booth to say hi or watch for me with my hat!!!!  Mary Jo
Mary Jo Huff
www.storytellin.com
812-455-1558