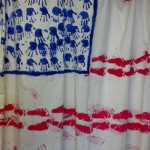 Thanks, Connie Sanders
Austin Peay Child Learning Center
Clarksville, Tennessee 2012
A salute to all the VETERANS and their families for what they have given to this great country.  A special thanks to my own Jar Head who spent 8 years serving his country.  I learned a lot in those early years and my heart and thanks goes out to every VETERAN and their family.   A special thanks for all military families who work so hard to protect our great nation.  If you do not know anyone serving our country find someone, give them a hug or just say thanks.  One of the most touching times is when a military person is at an airport and the entire loading area steps aside and lets the service man or woman board first.  They are the bravest of the brave.

NAEYC
As this time of the year approaches there is always a buzz about the annual NAEYC conference.  This year it was in Atlanta and the conference was filled with the best of the best.  The VERY BEST is seeing old friends from around the world.  Spending a full day in the exhibit hall is always a top priority.
I had the privilege to present a PUPPET PLAY workshop with over 300 in attendance and we jived.  I left with a great feeling in my heart. Watch in 2013 for a new puppet book from Gryphon House filled with all the important ideas that are easy to make and connect to Early Childhood curriculum.

 Let me introduce you to some of my favorite people.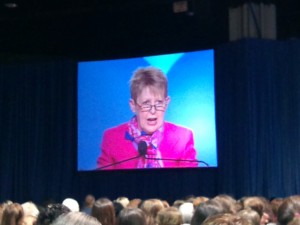 Thousands gathered to hear Mem Fox read some of her favorite stories and to explain to the massive audience how important WORDS are to children and their development.  You should own her books and have them available for yourself and for the children.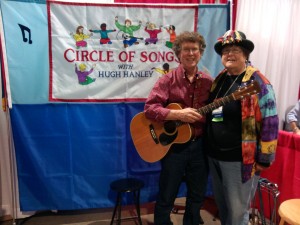 This gentle man sings for all children and has produced a 30 minute show filled with songs and it can be viewed at http://acmi.tv and select the Video-On-Demand feature.  On the next page type Songs from the Circle.
His web site is www.hughhanley.com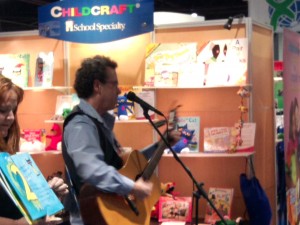 PETE the CAT
I LOVE MY WHITE SHOES
by Eric Litwin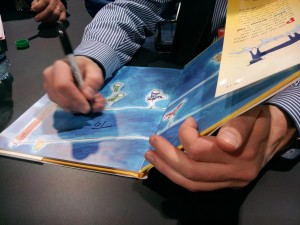 MY SIGNED COPY to
GRANDMA DODIE
This is Eric Litwin signing my copy of Pete the Cat to Grandma Dodie…..and I will cherish this book.  I rode on the elevator and said "Are you Pete the Cat Eric?" and we both laughed.  He is an educator, musician, author and true entertainer. 
    Books you gotta have to read, sing, and play with children.
I will check in again on Dec. 11, 2012 and today  I want to say a big HAPPY BIRTHDAY to my grandson Liam………..who is 7 .     I am thankful for each and every one of you connected to Early Childhood education. You are the most IMPORTANT people in our society!

Mary Jo Huff, Author, Storyteller, Song Writer, Puppeteer
www.storytellin.com
maryjo@storytellin.com
Facebook, Twitter, Linkedin