---
Join Mary Jo as she shares a SPRING FLING.  This is the title of the in- house field trip presented to over 500 children this spring.  Seasonal visits are being scheduled for summer and fall at this time.  Get on board and let your children enjoy a seasonal visit connecting "ARTS & EDUCATION!" It is SPRING TIME It is SPRING TIME How do you think I know? How do you think I know? I found some flowers blooming I found some flowers blooming I know it must be so! I know it must be so! Sing this over and over with the children letting them tell you how they know it is SPRING TIME. This is a favorite time of the year for everyone as we see the newness of life in our environment. Sing this little diddy……. It is spring time It is spring time Winter is gone Winter is gone Summer time is coming Summer time is coming Won't be long Won't be long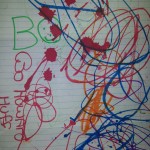 Two year old art when asked what he saw outside.
School is at the end and many children are looking forward to graduation ceremonies and getting ready for summer.  Other children who are in full day child care are also preparing for lots of outdoor fun during the summer.  Safety must be the most important word on everyone's lips and minds.  Children are so anxious to PLAY.  When the sun is hot provide the children shade and a place to rest. Plant a garden and watch nature work her wonders.  Provide children with lots of books to read and show them how to take care of plants.  Go on walks and enjoy the spring. 
Thanks for stopping by and look for another post in the summer with fun ideas for Commotion in the Ocean and Pirate Fun.
Mary Jo Huff
www.storytellin.com
maryjo@storytellin.com
FB * Twitter * LinkedIn EXPLORING