NUMBER 12 meets NUMBER 11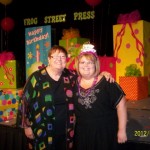 While in Houston, Texas presenting a Keynote, jam time and some workshops for FROG STREET (www.frogstreet.com)  I had a big surprise.  This beautiful young lady came running up to me and said, " I am number 12 and you are number 11."  DAH!,  I did not get it until she said " I am Crystal Radke and I write for Pre-K and K Sharing and I post on the 12th of the month and you post on the 11 of the month."  "Oh, yes!" I replied.
We shared a BIG HUG and then had a great visit.  This picture was taken for us to share with all who visit this great blog.  You never know who you will meet or where you will meet them.
In my opinion, FROG STREET has the BEST conference in this entire country.  Teachers come from many states and countries to celebrate young children.  This year was Fanny Frogs 20th birthday and it was a huge celebration with events in Dallas, Houston, and San Antonio, TX.  Next summer a Masquerade celebration will take place in Dallas in the month of July.  Make plans to attend and find out how wonderful you can feel about yourself and your Early Childhood Profession.
Maria Solis, of Houston, TX, reading a story "The Birthday Breakfast" in Spanish as I read it in English.  The audience was filled with hundreds of Early Childhood teachers listening and laughing.  The conference hosts thousands of teachers from all corners of the USA, Canada and Mexico.  The Pre-K curriculum was written and directed by Dr. Pam Schiller.  She gathered educators, musicians, storytellers, and experts from many areas to contribute. 
Teachers come dressed to win prizes.  Hundreds of dollars are given for the school of the year, costume at the conference, someone who traveled the farthest and then lots and lots of door prizes – this year it was an extravaganza of birthday gifts given out by Fanny Frog to celebrate her 20th.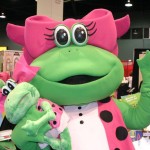 Stephen Fite, a great MC and musical entertainer, www.melodyhousemusic.com  is one of Fanny's best friends. 
He kept things moving and connected at all three events. Teachers are enjoying a night of dinner and dancing with Stephen Fite leading the way.  Teachers just gotta have FUN!
  Don Monolopi, the Learning Station,  www.learningstationmusic.com leads teachers in his famous TONY CHESTNUT song.  Don was an extraordinary musician enjoying a night of music and storytelling.
  Ron Chase, owner of Frog Street, along with Sharon, Amy and Bill spearhead the world of education and invite everyone to come on down to Dallas in 2013.  Thanks folks for the best conferences I have ever attended.
Keep  yourself energized as the new school  year begins!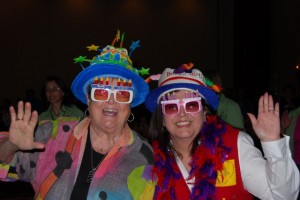 Mary Jo Huff
www.storytellin.com