Love is in the air and children truly enjoy the excitement of singing songs, exchanging valentines, enjoying a party and sharing HUGS, HUGS, HUGS!
A great classroom project invites children to cut out different colored hearts and paint them. Messages can be added and or the children' names to display on the Valentine tree. This tree can be a bulletin board size or construction paper size. It can also be a class project and each child cuts and paints a heart for everyone in the class and they make an individual tree filled with names and messages.
Crystal Janecky-West picture found on Pintrest at PreKandKsharing.blogspot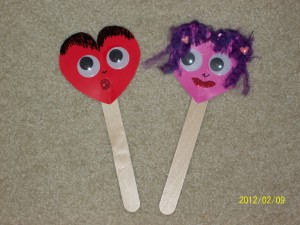 The MAIL BOX – each child should decorate their own mail box.  They can use a shoe box, photo box, mail box or paper bag designated as a mail box.  The children make Valentines for each child in the room and they become the mailman.  This idea is centuries old but still loads of FUN!
Mary Jo Huff
maryjo@storytellin.com
www.storytellin.com
Copyright 2011 © Mary Jo Huff
All Rights Reserved!
Contact Mary Jo for permission to sell, post, publish, or distribute all or any part of this article!