Connecting children and nature is the most natural way of teaching and communicating with all children. We can learn from children by observing and analyzing their work. Our local community sponsored a Nature Explorer seminar and I am so thankful that I attended for two days. This quote is from the Nature Explorer research:
"One of the most significant findings of this research is that when children engaged in authentic play in a Nature Explore Classroom, they are developing skills in a variety of domains simultaneously. This is what we refer to as whole-child learning."
 An outdoor classroom supports learning in the areas of math, visual-spatial, music & movement, art, literacy, science, close observation and social-emotional.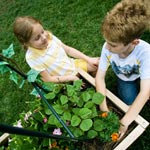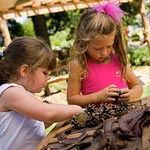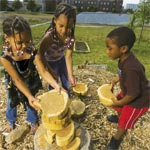 It was a great privilege to attend two days of hands on activities with Nature Explore at the Wesselman Woods Nature Preserve in Evansville, Indiana. The programs continue across the USA. Check out the Nature Explore and the Wesselman Woods (http://www.wesselmannaturesociety.org/woods) web sites for information and become a teacher of the wonderful world of NATURE!

A GREAT PLACE TO LEARN AND PLAY WITH A NATURE CONNECTION
When a dedicated, child loving adult connects with the learning atmosphere nature can bring to a center great things happen. Maria Manges, from Cradle to Crayons, in Petersburg, IN decided to dedicate her extra time to providing a great outdoor space for children to learn and her efforts and results are OUTSTANDING.
This playground is filled with learning areas and the garden will provide food for the children to explore. If you have an outstanding nature space for children send me pictures and a little right up with permission to use the material in my blog.
EARTH DAY
Earth Day storytelling dressed in camouflage and sharing space with friendly owl, frog, and eagle. All children enjoy the visuals and puppets as an addition to a good story.  
For many years I would tell stories behind a big tree on the playground. At first the children thought the tree was talking and even after they realized it was me they would talk to the tree. If you have a tree on your playground take advantage of the nature connection and invite the children to join you at the story tree for special nature stories.
 Hug a child and hug a tree!
Mary Jo Huff
www.storytellin.com